We would like to take this opportunity to tell you about a new feature now available in RxWeb. Claim Amend is a new EPS functionality in RxWeb that enables users to send an updated Reimbursement Claim message to modify previously submitted information.
This means that if a mistake was made in the initial claim submission, it can now be rectified. There are no limits to the number of times a claim can be amended; however, all alterations and rectifications can only be submitted within the valid NHS amendment window.
It has been agreed with NHS Digital that RxWeb can deliver this new functionality in a two-phase approach. The first version of Claim Amend (v1) will allow you to make changes to the following:
Patient Exemption Code
Prescription Endorsements
Evidence Seen Status
We expect to deliver the 2nd Phase of Claim Amend, offering complete functionality by the end of 2020.
Here's a brief run-through of the functionality you can expect and some instructions on how to take advantage of this new feature.
1. The Claim Amendment Window
The window for making alterations to a Claim is the same window as the Prescription Reimbursement rules. Examples below:
Prescription is Dispensed on 30th January and Claimed on 31st January. You would be able to Claim Amend until the 5th February.
Prescription is Dispensed on 1st January and Claimed on 6th February. You would be able to Claim Amend until the 5th March.
Prescription is Dispensed on 1st February and Claimed on 2nd February. You would be able to Claim Amend until the 5th March.
The below screenshot is taken from the NHS Digital Factsheet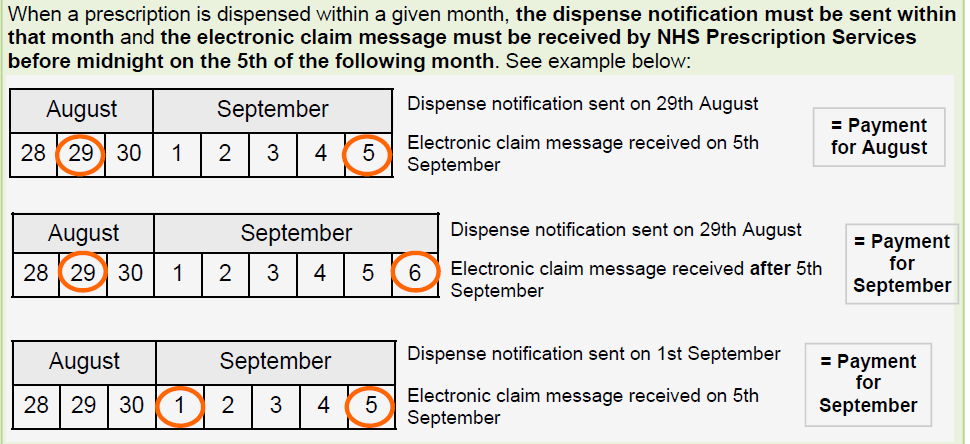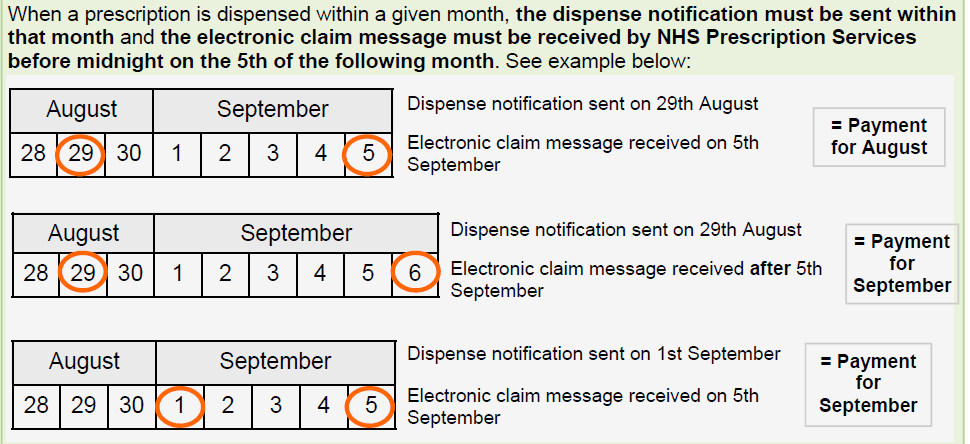 2. Using the Claim Amend Function in RxWeb
New Function in the 'Claimed' Queue.
In the RxWeb Claimed queue, there is now a new button called Claim Amend.
This button will open the previously submitted Prescription Information detailing Exemption Code, Endorsements and Evidence Seen.
You'll be familiar with this screen, as it is fundamentally the same as the screen currently accessed by the View Endorsements button in the 'To Be Claimed' queue.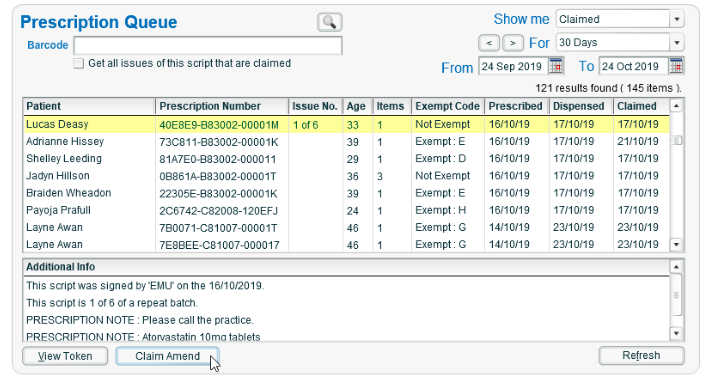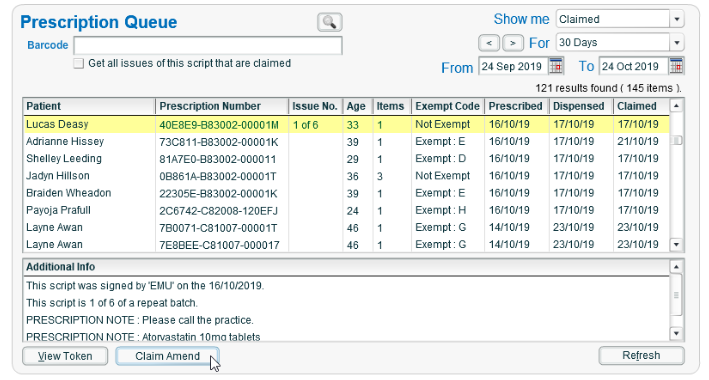 Amending a Claim
To amend a claim simply make changes on the Claim Amend screen and click Send Claim.
The Claim Amend Screen as seen below.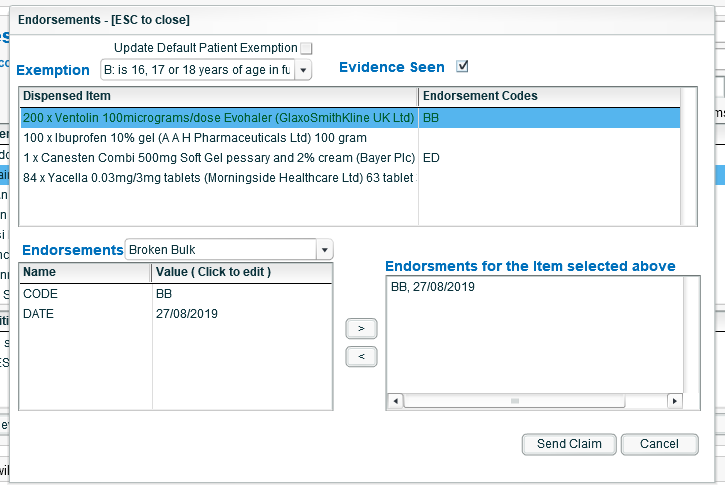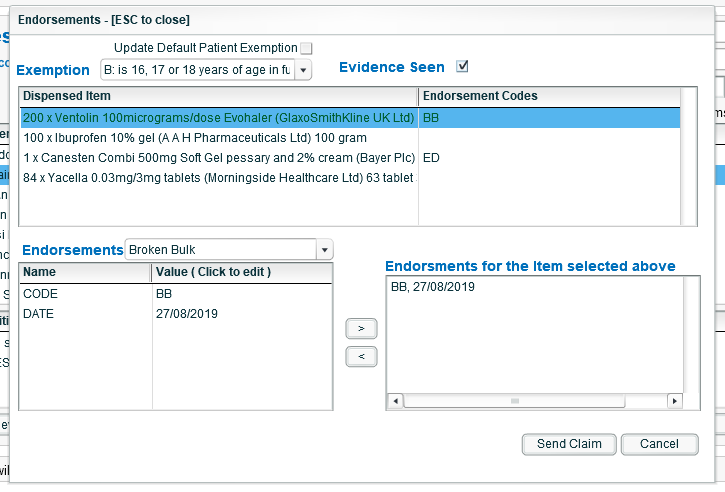 No Re-submissions Without Changes
You can not submit a Claim Amend unless alterations are detected. If you attempt to do this, the system will advise that you first need to make changes before proceeding.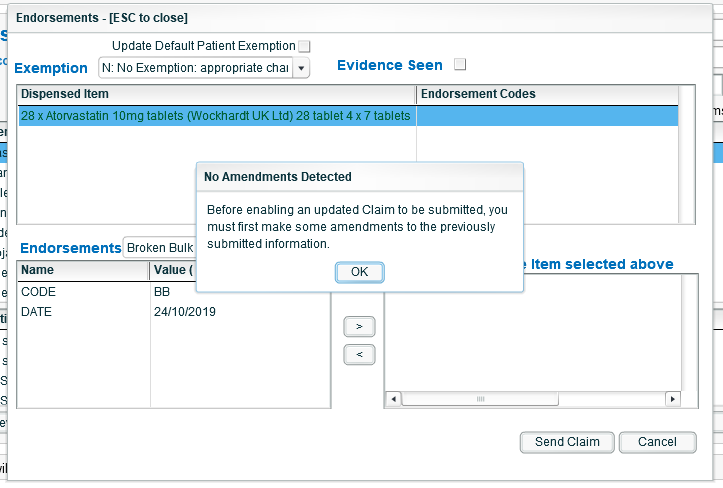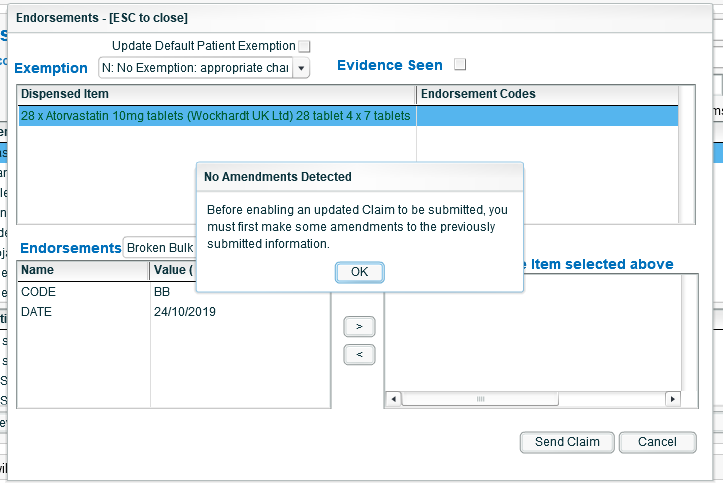 We hope you find these quick tips useful. If you have any questions, or, if you experience any issues using Claim Amend please do get in touch and let us know. You can find all of our contact information here.