Step 1: Click link above to download file ForceWhitelist CHROME.reg. 

Step 2: Double click the downloaded file. The following window will appear. Click "Run".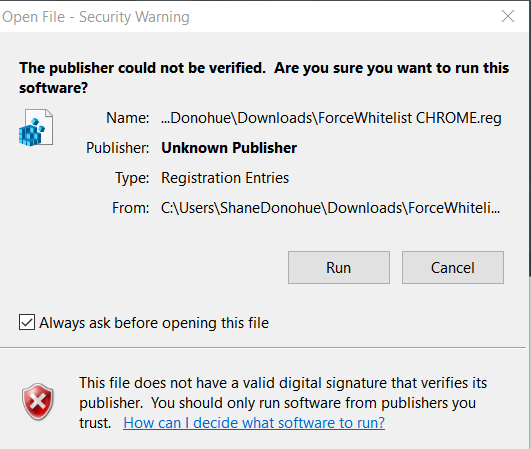 Step 3: This will prompt the following window. Select "Yes".

Step 4: Select "OK"

Step 5: – We advise to make sure you log off from your smartcard, close chrome, login your smartcard and open chrome and login to RxWeb as per normal. Please make sure All chrome tabs are closed. To do this easily type chrome://restart in the address bar as below:

In the event the above steps do not work please, perform the following:
In the top right corner of Google Chrome, click the 3-dot expansion menu.
Expand the More Tools menu.
Click Extensions.
NHS Smartcard Tools should be enabled.
Open RxWeb and Press Ctrl and F5 together to refresh the page.
The Light should go green if done successfully.